Walleye Fishing in New York
Walleye fishing on Eastern Lake Onatario started out slow for May. The first few weeks of the season were dismal on the usually hot areas. As conditions have improved June has been a whole lot better. Big walleyes are coming in on each night trip. The day bite on Oneida lake has been very good. Slow trolling worms and spinners has been producing good numbers of fish. Walleye fishing remains good through July. We still have dates for charters available.
Thanks for checking us out!
Shane and Jackie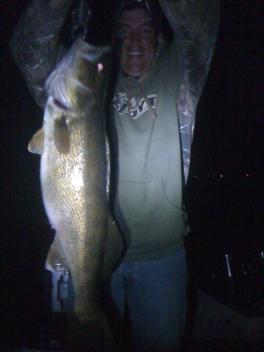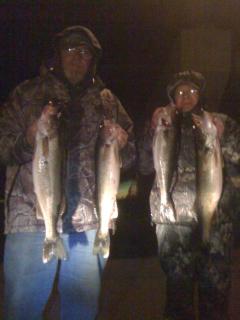 May 30
Walleye fishing on Lake Ontario has been improving greatly. Trolling big stickbaits along the shoreline has been producing some trophy sized walleyes. Brown Trout fishing has been slowing down. We are still catching some brown trout but working hard for them. The water temperatures are going up fast and fish are moving out deeper in the Lake. Oneida Lake walleye fishing has been very good as well.
Salmon River Guide
Jaclyn & Shane Thomas
May 7th is opening day of walleye season in 2011. We mainly fish Lake Ontario, Oswego River & Harbor at night for May catching 10-12 pound walleyes on a regular basis. 10-15 pound brown trout are common for the first few weeks of the season as well. June and July we start switching gears to Lake Oneida. For 2011 walleye season we have a new 20 foot Alaskan lund for slow trolling worm harness and casting sonars on Lake Oneida. We still run trips on Lake Ontario out of Oswego, Sandy Pond and Henderson June & July. Whether you want trophies on the Lake Ontario or dinner sized walleye from Oneida we can help you out.
Thanks for checking us out!
Shane and Jackie
Post-spawn Walleye are very hungry and therefore trolling tactics are very effective. We mainly troll at night when the Walleye's are feeding the heaviest. These fish are true trophy size and average 10 pounds. It is not uncommon to catch trophy 12-13 pound walleyes.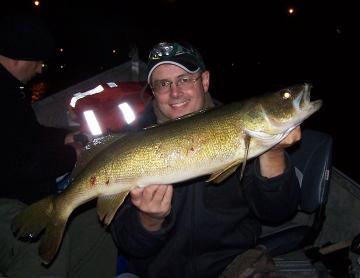 But when it comes to their appetite the walleyes are very similar to us. Some days, they will go to great lengths to please their bellies by roaming expansive flats or cruising miles of shoreline in search of a few crayfish or shiners. Some days, they prefer not to spend a lot of energy in search of dinner and simply rest on the bottom and wait for dinner to be come to them.
About Walleye Fishing
If you are looking for an exciting and truly memorable walleye fishing excursion that you won't soon forget, I would suggest that you schedule a fishing trip with the walleye guide. Whether you fish the Oswego River, Salmon River or Oneida NY, you are in for the adventure of a lifetime.
The eastern basin of Lake Ontario is loaded with huge Walleyes. From Oswego Harbor to Black River Bay,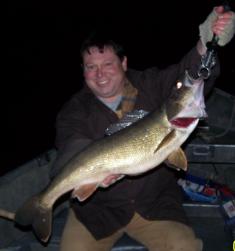 there are many miles of trollable shoreline to catch these fish. The fish enter late March to early April. Walleye season is closed then to protect the futures young. The first Saturday in May is the seasons opener. By this time the fish will have moved back into the mouths and inlets they originated from.
Big walleyes often avoid primary structures when the fishing peaks during the day. Walleyes are armed with excellent night vision, making them more active after dark. This is the best time to catch walleyes.
We have found the ideal water temperatures along the Lake Ontario shoreline should be around 49-54 degrees to produce the most decent walleye fishing. When the bait fish are in the big hungry fish are following. Stick baits and covering lots of water has been the key to success.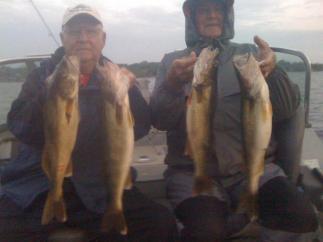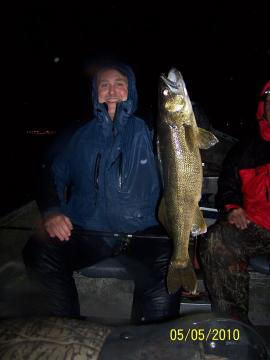 June
June walleye fishing on Lake Ontario and Oneida lake has been decent so far.
Slow trolling large stickbaits after dark along the shoreline of Lake Ontario has been producing trophy size walleye. Worm/spinners trolled along the east shore of Oneida lake has been awesome in the evening. Slow trolling small stickbaits after dark has been even better. Limits of 18-20''ers has been easy to come by. We are offering great deal on short 4 hour trips for angler who might not want to stay out all night. Give us a call for details. We have PLENTY of openings the next few weeks.